What is the Chris Griffey Memorial Feline Foundation? | We are a a 501(c)(3) non-profit dedicated to giving every life a chance. We specialize in neonatal at-risk kittens - those suffering from sacrocaudal fractures (aka tail pull injuries), atresia ani, mega esophagus, strangulation injuries, generalized failure to thrive and so much more. Historically there was little no hope for these kittens - their medical care costs were too great, medical knowledge about their conditions was few and far inbetween, and they were more often deemed unadoptable. There are no odds too great and no kitten too small for the head of the foundation, Ellen Carozza, to take under her wing. All donations go toward the care and medical treatment for these incredibly special kittens.
Chris Griffey - the spirit we are built upon
July 12, 1980- June 19, 2013
Origionally from St. Joseph, Missouri, Chris moved to the suburbs of Washington D.C. to go to school and pursue a life and career in the big city.  He was a dedicated team member of NOVA CAT CLINIC for nearly a decade and made a lasting impression with his gentle demeanor to everyone, espeically the cats who met him.
His career goal was to go into social work to help the LGBQT community and others less fortunate in the Washington D.C. area. Unfortunately, he never achieved his goal.
We found it fitting to name the foundation after him and help the kittens in our area that need necessary medical attention vs. making euthanasia the only choice. Everyone life deserves a chance no matter where you come from, even if you have nothing, someone believes in you.
We never stopped believing in him.
"The sun stopped shining for me is all. The whole story is: I am sad. I am sad all the time and the sadness is so heavy that I can't get away from it. Not ever."
― Nina LaCour, Hold Still
Suicide hotline: suicidepreventionlifeline.org OR 1-800-273-8255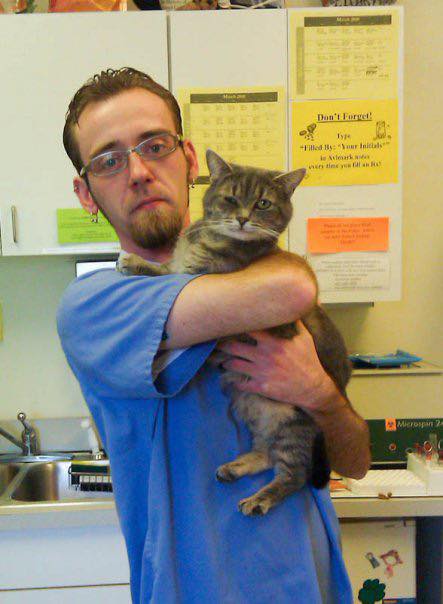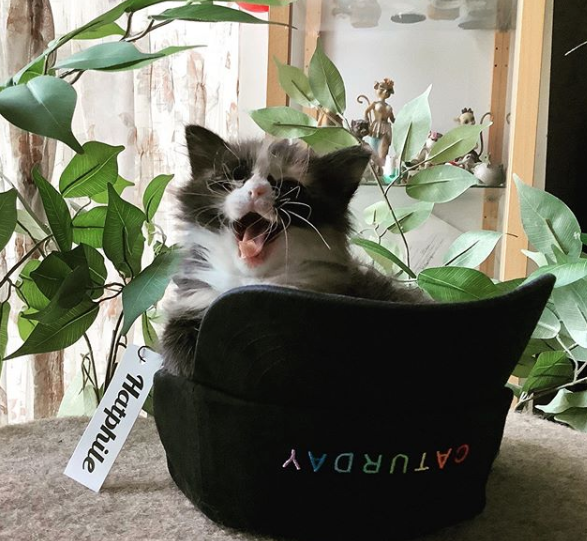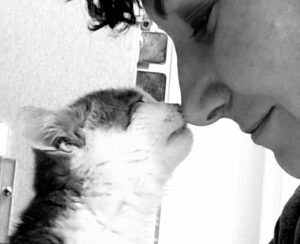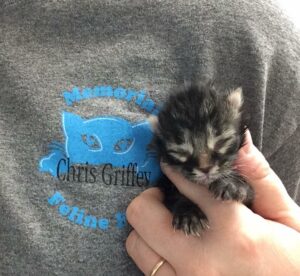 Ellen Carozza, LVT

(@thecatlvt)

- Mother of Kittens

A Licensed Veterinary Technician since 1996 who has worked exclusively with feline patients since 2002, Ellen (The CAT LVT)  currently resides at NOVA CAT CLINIC in Arlington, VA and is one of the founders of the Chris Griffey Memorial Feline Foundation, a 501(c)3 dedicated to the critical feline neonate and pediatric cases.

In addition to her full time job as a Licensed Veterinary Technician, and her mother of kittens role with the foundation, she also lectures on the veterinary circuit. She has been featured in "AAHA Trends Magazine", "Today's Veterinary Nurse" as well social media news "LOVE MEOW "and "The DODO " and Jackson Galaxy's Cat Camp to name a few with her work on saving critical kittens instead of euthanasia.

Ellen rescues, rehabilitates and rehomes most of the kittens that come through the foundation as well as teaching others that advanced medical care is possible for the smallest and most fragile patients.

You can catch her on Instagram with her sidekick, Benedict Cumbercat, the CATEGO® Speedy Cat sharing her success stories and life in feline medicine.
We Couldn't Do It Alone
It takes a village to raise critical kittens from red zone risks to ready to go furever home! To the world, our CGMFF team from the veterinarians to the fosters, may be a few people. But to our kittens, they are the whole world. We could not accomplish so much without support.
A HUGE Shoutout to the local specialists who help us make miracles:
Want to join our team of fosters?
We need all the help we can get. Learn more about fostering our critical care neonates until they find their forever homes!
Don't just take our word for it, some of our special kittens have made headlines!
Meet Fiona, the incredibly cute incontinent kitten who is searching for her forever home | MeowAF, May 13th 2020
Meet The Fun and Feisty Kitten with Manx Syndrome Who Found the Perfect Forever Home Through Social Media! | MeowAF, Feb. 2020
Kitten Who is Unusually Small, Finds Someone to Help Her Grow | LoveMeow, Oct. 19 2019
Littlest Kitten Ever Grows Up To Be A Mini Cat | The Dodo, Nov. 29 2018
Rescued Kitten Size of a Spoon is Determined to Grow Big and Strong | LoveMeow, Aug. 28 2018
Woman Took a Chance on Micro Kitten Who Was Size of a Thumb, Now Months Later... | LoveMeow, Jan. 03 2017
Cat Hugs All The Orphaned Kittens His Mom Brings Home | The Dodo, Oct. 31 2016
Kitten Rejected by Her Mom Due to Her Tiny Size, Finds Love from a Cat "Dad" | LoveMeow, Oct. 30 2016