Peach | Tangina | Bertram | Taco Cat | Butterscotch | Tilly | Fiona | Mort
---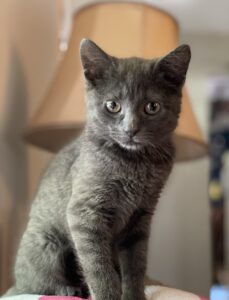 Peach was a special little girl who came to my house in April 2022 for a suspected Hiatal Hernia. It took quite a few months to get her on a good medication and food combo to alleviate the vomiting. She was a petite girl with the fluffiest gray fur and dreamy eyes. She always loved to stare at you until you patted your lap for her to cuddle. She was best friends with Chamomile who had the same issues as her. On February 2nd, she suddenly became ill and passed away. The entire house was sad but Chamomile took it especially hard. He searched for her for days and cried. Peach had been available for adoption since last summer and I had always hoped to have her adopted with Chamomile but sadly that didn't happen. Sometimes people are scared of 'special needs' kittens when in reality, they always have the most love to give. She only required a diet of wet, pate food with an Acid Reducer. Peaches 'Forever Family' looked different that I had envisioned, but that is because she was supposed to live her life with us.
---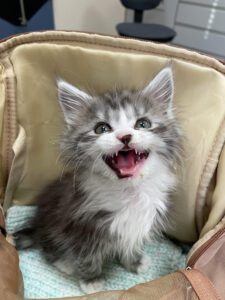 ---
Bertram | November 2022
There is always a cat that leaves a lasting impression. While Bertram (aka: Mr. B) was one of those cats Chris and I had the pleasure to work with, attitude and all, he was a good cat. No matter how much he wanted to show us he did not appreciate our affections at the clinic,we knew he was the best boy. Each time we saw him on the schedule we would fight over who would take this cantankerous cat and prove to him we actually did love him. From grooming to applying his diabetic monitoring systems, he dealt with us in stride and in the end he still let us know he wanted to be in charge. His family was always supportive of the foundation and its mission.
Mr. B, I hope Chris was waiting for you and helped you cross over. It was a pleasure knowing you for 14 years, being there for you, stroking your fur, and letting you know you were a good boy while you were falling asleep one last time. We loved you no matter how much you didn't love us at the clinic. You leave a lasting legacy and many fond memories.
~Ellen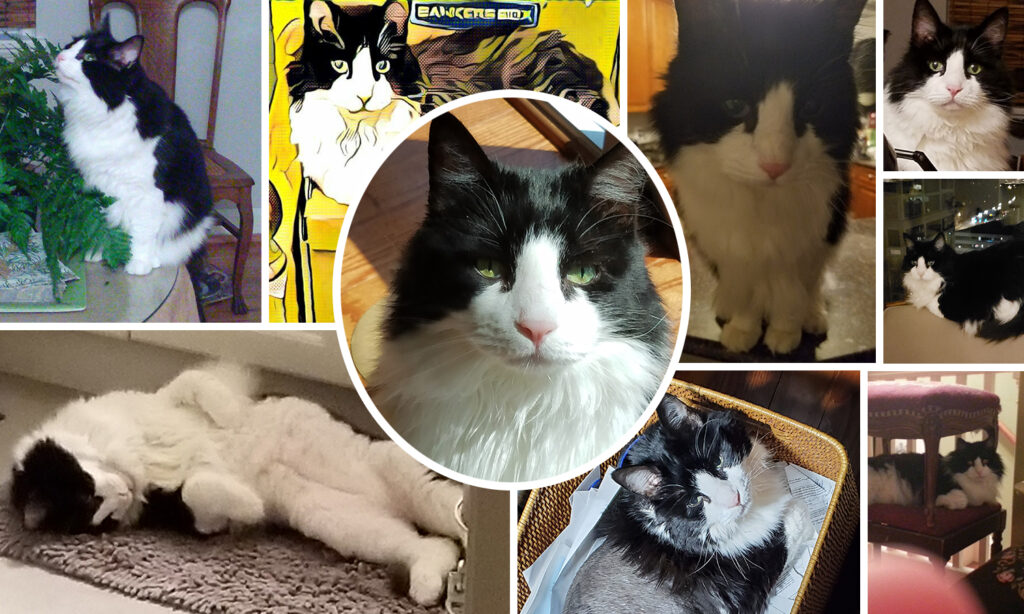 From Bertram's Family:
Our beloved boy has crossed the Rainbow Bridge. For 15 years, this true gentleman ruled our hearts and household with a fluffy white paw. Bretram loved singing, chasing treats, and snoozing in the sunshine. He kept us on task, making sure meals and chin scratches were frequent and punctual. Bertram practiced kindness, patience and unconditional love. We will hold him in our hearts forever. Run free brave soul.
---
Taco Cat | June 23rd, 2022
Good night Taco Cat. You were one of our longer adult cats in the program that just couldn't catch a break no matter how hard we tried. However, you made us all laugh with your antics, your foster mom loved you no matter how gross your skin got, even Nintendo liked you. Which says a lot. I hope you are much happier and finally comfortable again. Line to reincarnation is to the right buddy.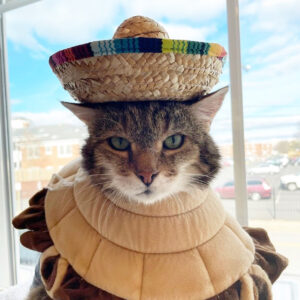 ---
Butterscotch | 2022
Butterscotch, died peacefully in his sleep at home and had severe flat chest syndrome along with hind limb paresis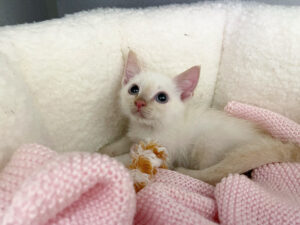 ---
Dog Gone Days - Tilly | August 24th, 2021
Once every so often we have a dog join our foundation, and Tilly was our dog of 2021. 
Born with hydrocephalus and a ridiculously large fontanelle, she needed the extra care and medical support that the local rescues and shelters couldn't provide, so they reached out to us. We saw multiple neurologists and advanced imaging and was told she was not a candidate for shunts that can normally be placed in these cases. That meant we had to focus on her Quality of Life every day. Every day you get to be a dog. Enjoy the sun, play with toys, be part of the pack and be loved. Tilly never learned the basics, such as being house-broken, but she did know who loved her and knew how to play.
| | |
| --- | --- |
| | |
Tilly had many adventures in her short life. From going to New York with Eggbert and me to visit family, shopping with Kim, and having her special Cat-Eared helmet made by Bionic Pets (https://bionicpets.org/products/custom-cranial-helmet), she lived life to the fullest. She went into her foster-to-adopt home with Azi, who's mother was also battling her own medical issues, and Tilly was there as the support puppy for everyone in the home. She made life wonderful for everyone. Azi's mother recently passed, and Tilly once again was the fur to cry into and the smile Azi needed. 
Unfortunately, Tilly's medical condition caught up with her. On August 24th, Azi held Tilly one last time at home and let her peacefully pass away surrounded by friends and family. 
Thank you for the continued support with these cases. Without you, we cannot give them an enjoyable life, get the love they deserve, and a family to be a part of. Even if it's just for a short time.
---
Unfortunate News - FIONA | 6/16/2020 
The CGMFF is sad to announce the sudden passing of our "Fiona" while fighting a short illness. She was an amazing member of Team Scratch N' Dent and will be greatly missed by everyone. She is survived by her foster family the Truby's and her feline friends, Carina, Gytha, Ella, Nessie and her foster cat dad, Yoda.  She was adopted and was ready to head to her new home when she suddenly fell ill. Unfortunately this can happen, but we are glad she was still with us so we can care for her before leaving. 
Each cat that passes, we have a necropsy performed. This helps us understand where we went wrong in our care plans and why their illness was not matching up to what our diagnostic results were. With answers, we are able to treat other cats with these symptoms and labs on the next cat so we are able to start treatment much earlier in hopes we can save the next one.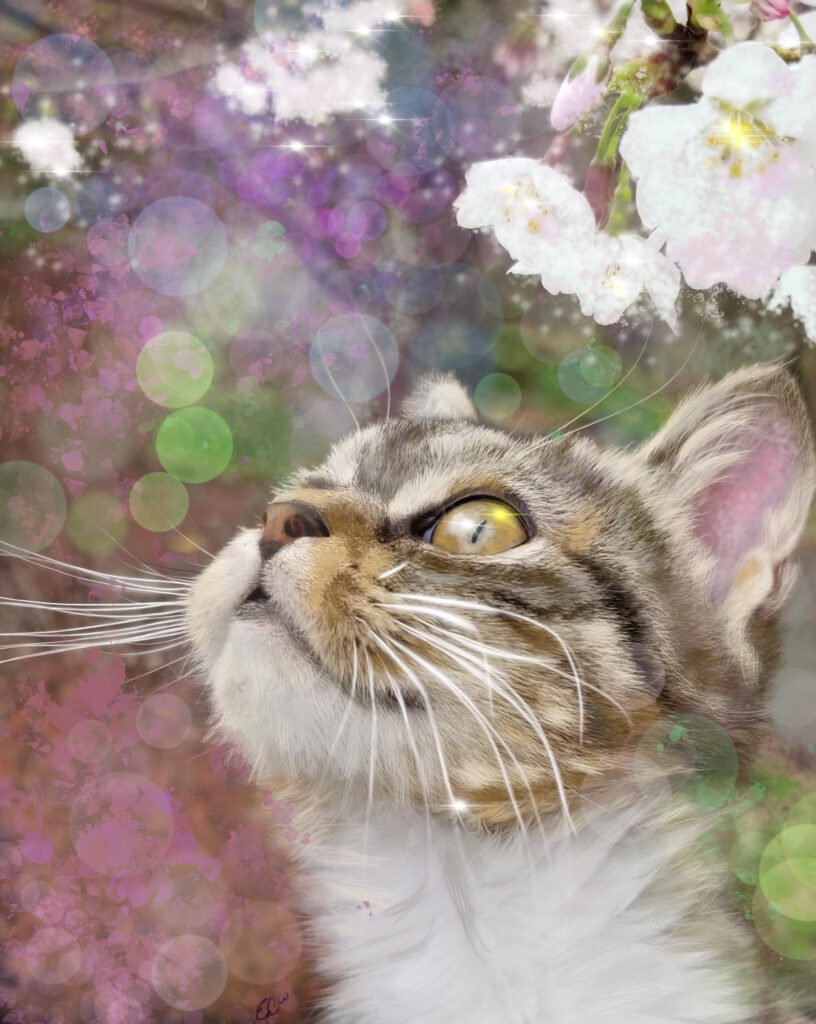 Fiona - your wings were ready, but our hearts were not.
---
In Memoriam of Mort - A tribute from Tracey
"The irony of Mort's name didn't go unnoticed. Named after a character called 'the apprentice to death,' (such a great name, Ellen!) it was quite fitting that he came into my home as I am a gravestone carver. Mort not only became part of my fur family he became a forever lasting love! Knowing he was a "scratch n' dent" kitten I was still quite shocked at how quickly he started to decline. FIP took him only 4 weeks, a shock to everyone. Mort taught me so much in so little time. He showed me how important the process is to acknowledge death, to mark a love ones passing, and mostly, remember how to live! I can't thank the Chris Griffey Memorial Fund enough for all the love and care you bring to the cat and kitten world. Thank you with all my heart!"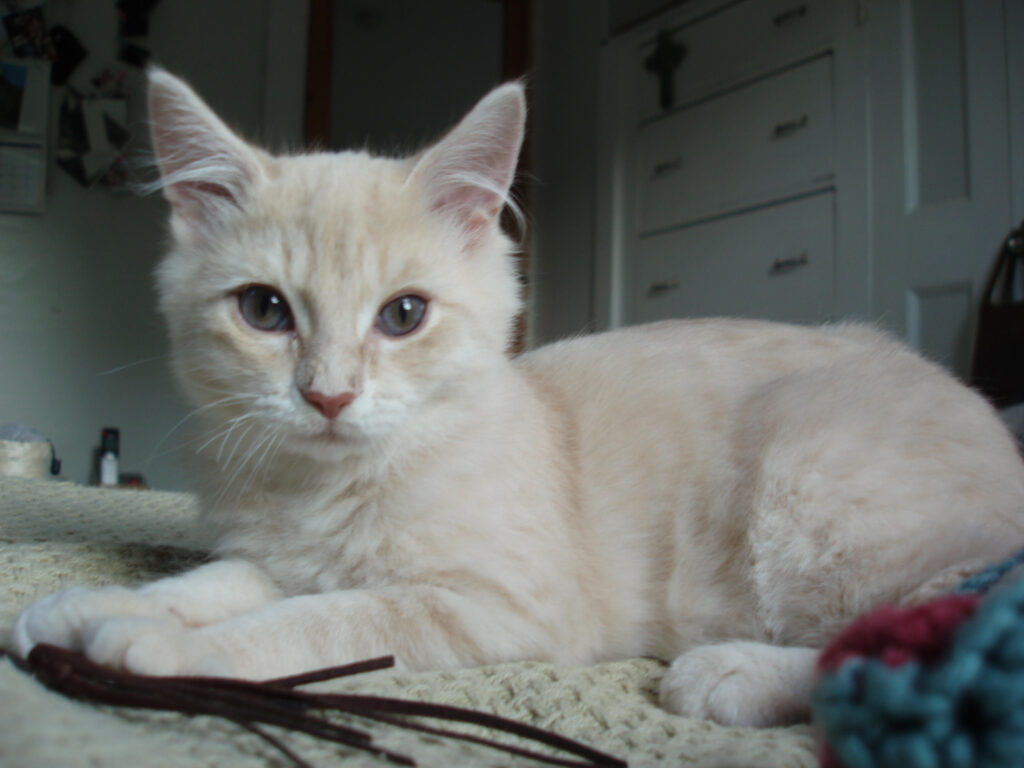 "The wizards, such of them who were still on their feet and conscious, were rather surprised to see that Death was wearing an apron and holding a small kitten." - Mort, as quoted in the Discworld book series by Terry Pratchett.